NEW Precise CNC Low Speed Wire-cut EDM AW400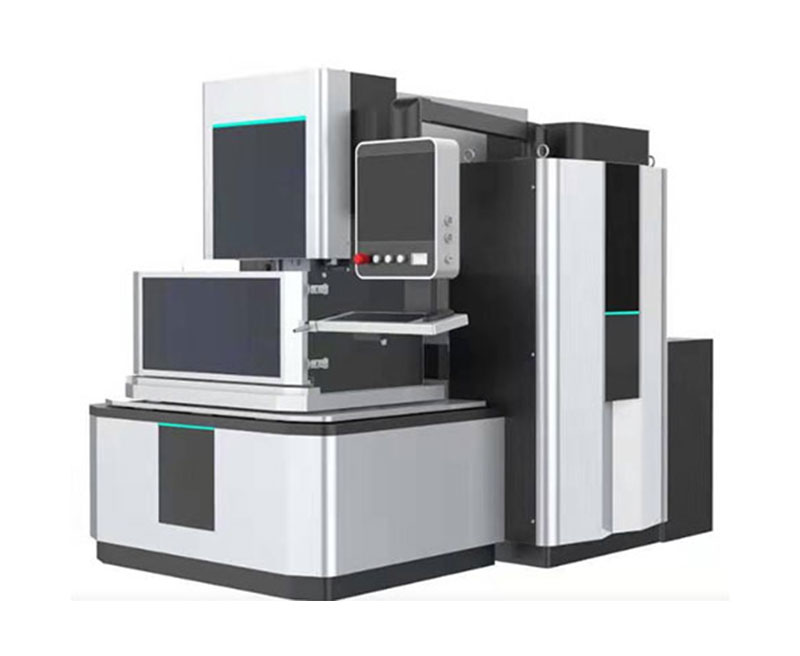 | | |
| --- | --- |
| Dimension of the machine(mm) | 2100x3050x2100 |
| Dimension of work-table(mm) | 650x490 |
| Distance between work-table and floor(mm) | 1000 |
| Travels X/Y/Z(mm) | 400x300x220 |
| Travels U/V(mm) | 80x80 |
| Max. weight of work-piece (Kg) | 400 |
| Max. dimension of work-piece (mm) | 800x600x215 |
| Dimension of work tank (mm) | 850x650x260 |
| Capacity of resin (L) | 10 |
| Water tank dimension (mm) | 1700x840x530 |
| Criterion power | 3x380V 50/60Hz 7kVA |
| Controlling axe | Five axes/Four axes simultaneity |
1.CNC XYZUV axis, AC servo system
2.AC discharge without electrolyte, which reduces the cracking and electrolyte of the work-pieces after machining, thus prolong the life of the mold machined.
3.The state and energy of every discharge impulse is inspected, which reduces the impact to machining wire form the bad discharge impulse, then prevent wire-breaking effectively.
4.24" LCD
5.Windows10, specially designed graphical interface, simple and intuitive operation.
6.Optional Auto wire threading function (AWF function)
7.Precision line roll guide-way, which improves the moving accuracy and sensitivity of the machine, and has quite good servo performance and steady machining.
8.two grades of wire tension system, adopted DC motor
9.copper wire electrode diameter is Φ0.15-Φ0.30mm
High Precise Copper Wire Cut Electrical Discharge Machine
a.CNC language: Chinese/English/Portuguese/Russian/Spanish
b.keyboard,USB, LAN
c.Center-finding /Wire alignment/ Edge-finding /Save and return to reference /Mechanical
d.reference/Three points fixing center/ inclined hole/ coordinates rotation
e.Mirror image of axes X/Y, exchange of axes X/Y, rotation, proportion zoom
f.Save automatically when power-off/ Resume automatically when power-in
g.AW400 wire-cut machine is integrative machine, which is located on the T-structure bed. Axes X/Y/U/V adopt cross structure.
h.The measure device of Low water level, medium water level and high water level inside the tank.