AG560-SA
High Precise CNC Lower speed Wire-cut EDM- AG560-SA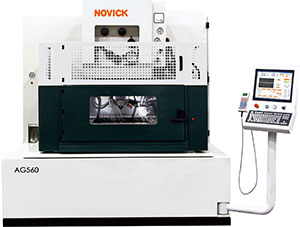 Items

Unit

AG560-SA

Size of machine(L×W×H)

mm

2850x2400x2250

Weight of machine (without of working oil)

kg

3300

Travels X/Y/Z

mm

500x350x300

Travels U/V

mm

100x100 (90x90, for AWF)

Max. cutting taper

°/mm

±30/50

Size of work tank (L x W x H)

mm

1120x800x350

Max. size of work-piece

mm

1000x600x295

Max. weight of workpiece

kg

500

Size of worktable

mm

800x585

Distance between worktable and ground

mm

1000

Diameter of closed wire guide

mm

Φ0.15~Φ0.30

Wire tension

N

Automatic constant tension

Wire speed

mm/s

30~200

Threading device




Semi-automatic / Automatic

Generator

Max. cutting speed

mm²/min

160

250 (optional)

Best roughness (Ra)

μm

≤0.45(1 cut 3 trims)

≤0.25(add finishing module)

Work type




AC MOSFET electroless generator

Standard technics




Steel, carbide, copper, graphite

CNC control system

Control system




IPC system

Hard disk




Windows XP

Hardware configuration




SSD >64G

Axes controlled




XYUVZ 5 axes (4 axes controlled simultaneously)

Memory function




With memory function

Power supply system

Standard power supply




3x380V 50/60Hz 7kVA
AG-SA series wire-cut machine is integrative machine, which is located on the T-structure bed. Axes X/Y/U/V adopt cross structure. The wire-driving system and Z-axis are put on the front of the press slide of U-axis, which ensures good rigidity, strong bearing capacity, compacted architecture and mass operation. Operators can achieve all the procedure including wire-installing, wire-through, wire-driving, clamp-mounting and machining in front of the machine, which assures more convenient machining.
Features
1.AC servo system is adopted, has the system-protecting function and error-auto-checking function.
2.The AC discharge without electrolyte is adopted into rough machining and finish machining
3.USB and LAN interface allow convenient datum-saving and datum-transferring.
4.Software system: Windows XP, real-timely multitasking system, ISO code programming
5.Support more types of languages: Chinese/English/Portuguese
6.Support mirror image of axes X/Y, exchange of axes X/Y, rotation, proportion zoom
7.Support the corner machining deceleration and corner machining parameter adjusting
8.Support the spark alignment, edge-finding and center-finding
9.Exchange of inch and metric
CNC of axes X/Y/U/V/Z
1.Select beveled in, beveled out and G00 return to hole-center during programming
2.Select the moving modes of right-angle and linkage of multi-holes machining during programming

3.Support help system, including machine installation, operation, maintenance, accessory, application and so on
Axes (X/Y/Z/U/V), adopt precision line roll guide-way, improves the moving accuracy and sensitivity
1.Axes X/Y/U/V, the AC servo motor is connected directly with ball screw, which ensures higher position accuracy and repeated position accuracy, thus ensures machining accuracy.
2.Z-axis adopts AC servo motor and precision gear belt.
3.Automatic centralized lubrication for the axes X/Y/Z/U/V.
4.The 2 grades of wire tension system is used in wire running system which enables wire tension in a state of dynamic constant by adjusting wire speed according to the feedback of wire running status.
5.Wire system balanced and the speed of the wire can be adjusted in 20 grades.
6.The diameter of copper wire electrode: Φ0.15-Φ0.30mm.
7.Display coordinates X/Y/U/V.
8.The water level inside the tank is determined automatically by the measuring switch.
9.Equipped with 5 pumps: high pressure pump, quick filling pump, circulation pump, deionized pump and cooling pump.
10.Machining medium:pure water or distilled water
11.The deionized barrel can contain 20L resin.
12.Check automatically the conductance of the machining medium.
13.Cooling system for Constant Temperature of the dielectric unit ensures the minimum deformation of the machine and work-piece.