AR60 Pro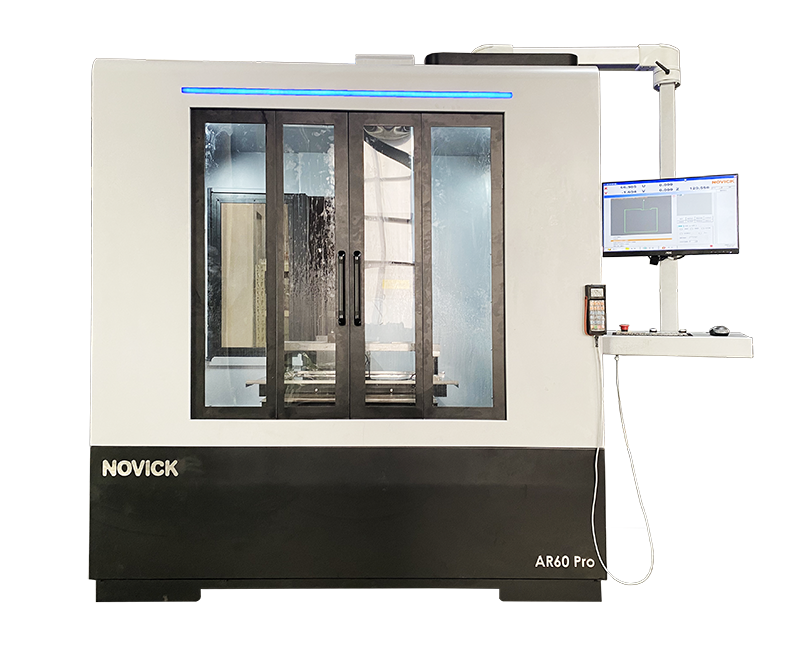 Items

Unit

AR60 Pro

Main machine

Size of machine

mm

2400x1890x2060

Weight of machine

kg

2600

Size of worktable

mm

800x580

Travels X/Y

mm

600×400

Travels U/V

mm

70×70

Travel Z

mm

350motorized

Max.cutting taper

±15°/80mm(with closed wire guide)

Max.cutting thickness

mm

400

Size of work tank

mm

1190×650

Workpiece

Max.workpiece weight

kg

800

Max.workpiece size

mm

1190x650x400

Power supply system

Standard configuration

kw

3x380V 50/60Hz 2KVA

Generator and machining technology

Max. machining current

A

15

Max. cutting speed

mm²/min

>300(Cr12)

Best roughness(Ra)

μm

≤0.8

Standard technology parameters

steel/copper/aluminium/carbide

CNC control system

Equipment

Industrial PC/ SSD/Color LEDdisplay/FeRAM memory/USB&LAN interface

/Water proof stainless keyboard

Programmable axes

XYUV 4 axes(controlled simultaneously)(optional : A axes)

Program mode

Novick CAD/CAM/ISO

Servo type

XY DC servo(Optional:AC servo)

Intelligent system

Machine status

Machine shutdown status check

Workpiece

Workpiece statistics check

Machine faults

Automatically export machine faults report
For AR Series wire cut EDM, IPC system is adopted as the E-cut CNC system, which ensures high safety and convenient operations; other CPU system is connected with each other through I2C and SPI communication interface which allows simple structure and convenient maintenance.



Features:
1.Auto-making multi-time cut machining program
2.The auto-programming system, it's not only can draw pictures but also can
create ISO code.
3.It has multi-time cut technics parameters data of machining materials, which
are steel, copper, aluminum, carbide and titanium alloy and so on.
4.It has mirror-image function and axes-exchange function
5.Real-timely multitasking control system
6.Support more type of language: Chinese /English/Spanish/Portuguese/Russian/
Italian/Polish
7.Deal with sharp angle especially
8.Inch/metric transition
9.CNC of X/Y/U/V axes
10.Offset of pitch error for X/Y/U/V axes

Precise Reciprocal Wire Cut Electrical Discharge Machine Mechanical body
1.The T-type structure of machine marks for bearing and ensures stable machining.

2.Axes X/Y: adopt line ball guide-way and ball screw which ensures moving accuracy and delicacy of machine. They both adopt deceleration synchronous belt (1:4) connected with DC servo motor,

3.which ensures stable machining and high accuracy.

4.Wire tension device allows long-time machining automatically in the absence of operator.

5.Big diameter wire container reduces wire-driving frequency and improves machining efficiency.

6.Wire container part focuses centralized lubrication system.

7.Either wire-loading automatically or manually is allowed.

8.Both oil emulsification liquid and water emulsification liquid can be used as machining liquid. The DIC-206 or JR-3B emulsified oil is suggested in multi-time cut and should be replaced regularly.

9.Diameter of molybdenum: 0.12mm~0.20mm. Under special requirements, the
minimum diameter can be 0.07mm and the maximum can be used to 0.25mm.

10.Equipped with two-way folding door to prevent, which allows simple structure and convenient maintenance.