AF70
Precise CNC Die-sinking EDM AF70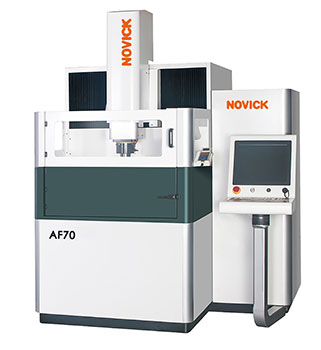 Parameters:
Type

Unit

AF70

Dimension of machine

mm

2100x2660x2720

Weight of machine

Kg

4600

Dimension of worktable

mm

800x600

The distance between work-table and floor

mm

850

The distance between Z-platen and work-table

mm

260-660

Travels(X /Y / Z)

mm

700x400x400

Max. electrode weight

Kg

100

Max. work-piece weight

Kg

2000

Max. work-piece dimension

mm

1100x700x450

The dimension of dielectric tank

mm

1520x820x540

The radius of the door of dielectric tank

mm

1290

The manual velocity of axes X/Y/Z

Four grades, the best is 4 m/min

Filtration

Four filter papers

Cubage of oil box(L)

750

Type of medium

Dielectric specific to machining

Max. pressure when flush

0.3Pa

Max. pressure when suction

-0.02Pa

Standard power

3x380V 50/60Hz 10kVA

Fluctuation allowed

380V±10% 50±1Hz

loaded fully current

15.2

Max machine current

50

Control system

IPC system

Operation system

Windows

Electric disk

SSD >32GB

Input mode

MDI, USB, LAN

Display

17" LCD

Language

Chinese /English

Control axis

Axes X/Y/Z/C; four axes move simultaneously.

(C axis: optional)

Command mode

Incremental/absolute

Unit

Inch/metric

Interpolation

Linear / arc

Orbit type

Auto-orbiting/servo orbiting

Orbit mode

circle / square / vector / polygon

Coordinates system

6

Format of code

ISO G/M code

Programming

MDI/auto-programming

Max. machining current

50A;100A(optional)

Max. machining speed

380mm3/min±10% (50A, copper machining no. 45 steel)

550mm3/min±10% (100A, copper machining no. 45 steel)

Best roughness

Ra0.1μm

(Electrode material: copper;

the Max. Electrode area: 300mm2;

Work piece material: S136 mirror steel)
1.The machine adopts the latest PWM DC speed control system which controlled by the high-speed microcontroller, it ensures stable movement and it has strong protection and testing function.
2.AC servo system is optional, has the high-speed lift-reamer function.
3.Check and control every discharge impulse, ensures high machining speed and best roughness.
4.In order to shorten oil time, AF70 adopts double pumps to supply oil. Oil surface get to enactment height will turn to single oil circulation.
5.It is equipped with temperature relay. During machining, if the temperature of medium is too high (> 45℃), machining will stop automatically and the relevant message will be displayed on screen.
6.USB allows convenient datum-saving.
7.Stainless and water-proof steel keyboard.
8.Offers various assistant functions including moving, edge-finding, outside center-finding, inside center-finding, corner-finding, return to origin, set reference and return to machine origin.

Files management.

1.X/Y/Z/C, four axes move simultaneously. (C axis: optional)
2.Offset the pitch error and reverse gap of X/Y/Z/C.
3.Multi-electrode management control function.
4.DSAPCS auto-programming and MDI manual-programming system.

Structure

1.The mechanical body is adopted ram structure and fixed work-table which ensures better maneuverability. Fixed work-table ensures good bear and stable machining.
2.The machine is equipped with the rotating operation panel, 17'' LCD display, and the remote control, almost all operations can be achieved by remote control, which ensures convenient machining.
3.The mechanical body adopts main body, oil tank and cabinet are integrative structure, they can use it just by adjusting machine level, then turn-on suitable electric wire.
4.Movement axis screw and guide-way are centralized, time-lapse and automatic lubricate by butter. Manual lubrication is optional.
5.The coordinate axes with the higher move speed and higher lift-reamer speed can obtain higher process speed when machining complicated work piece as deep tank and narrow gaps and so on.
6.The machine is equipped with the electromagnetic shielding cover and the drainage, which is more environmental.
7.The X/Y/Z axes adopt the DC servo motor, optional AC servo motor.

Precise CNC Die-sinking Electrical Discharge Machining

Hand-box (with LCD) Function

● To select axe.
● Four kinds of speed (high/middle/low/single) can be used to move axe X/Y/Z.
● To adjust moving speed of every axis.
● To turn on/off the pump.
● To turn on/off the manual chuck.
● Machining preparation、machining pause and continue、relieve the alarm
● General operations: edge-finding, hole center-finding, return to origin etc.

Cut Sample: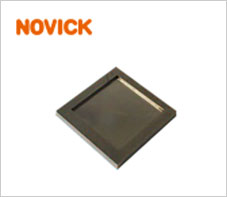 Workpiece material: Cr12
Cutting area: 900mm²
Process Depth: 1.5mm
Electrode size: 30X30mm²
Wire material: copper
Machining time: 310min
Roughness : ra0.2μm